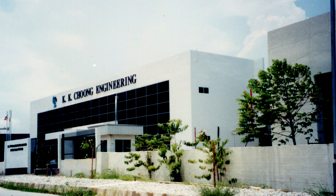 Founded in 1985 by Mr.K.K. Choong, the company has come a long way since its humble beginnings. It started with an initial investment of RM200,000.00 and a headcount of less than 10 people. It was then operating from a shop-house but since then it has grown tremendously. K.K. Choong Engineering Sdn. Bhd. is solely owned by Mr. K.K. Choong who has vast experience in the semiconductor industry.

Our business started with a humble beginning by providing metal fabrication and metalworks services to our customers but as mentioned, we have evolved. Please see our Product Profile below.
Today, K.K. Choong Engineering Sdn. Bhd. is one of the major players in the precision tooling and automation system business with an annual turnover of RM5,000,000.00. Our new operating facility is located near the Free Industrial Zone with a built-up area of 22,000 sq.ft. employing over 50 employees.
With a team of dedicated and enthusiastic engineers and technical personnel who have the creativity, the know-how, innovativeness and ability to provide engineering solutions, we have excelled in our engineering capabilities. This is evident by the long standing working relationship and partnership we have with some multinational companies in this region.
With emphasis and investment in state-of-the-art machinery, equipment, process development and engineering capabilities, K.K. Choong Engineering Sdn. Bhd. is well positioned to compete alongside others to face any challenges now and the new millennium.
MISSION STATEMENT
Our Commitment is to
TOTAL CUSTOMER SATISFACTION
by delivering
SUPERIOR QUALITY PRODUCTS
on a timely basis and providing
EXCELLENT AFTER-SALES SUPPORT

Corporate Vision
To be the preferred precision tooling and automation solution provider in the region.